How much does Safety Check (Pink Slip) cost?
Pink slips have a standard cost, which depends on your vehicle, and are separate to the cost of registration. This table shows the current maximum fee for the most common inspection types: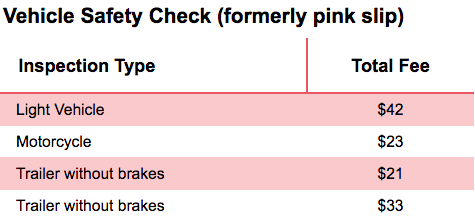 What does a mechanic check during a pink slip inspection?
When you go to get your pink slip, your mechanic will assess your vehicle on a number of factors, and run a variety of tests and checks that must be passed.
Tyre quality and tread depth
Vehicle body condition
Working electrics such as headlights, blinkers, interior lights and dash lights
Engine/suspension/exhaust and driveline condition
Seatbelt condition
Engine and driveline fluid leaks
Brake efficiency test
How long does a pink slip last?
Once your vehicle has passed inspection and you've been issued your pink slip, you have up to 42 days to use it to register your vehicle. If you do not register within that time, you will be required to obtain another pink slip and pass inspection again.
Pink Slip Today can offer a mobile RMS approved Pink Slip. Simply SMS for FREE Quote or Call 1300 191 981